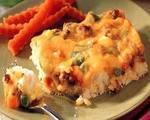 Prep: 15 min
Cook Time: 40 min
Total: 55 min
Serving: 8
For moms on the go, casserole bakes are a great dinner option. Preparation for this Cheeseburger bake is quick and you'll have time to help with homework while it's cooking. Plus, this recipe has a cup of peas and carrots hidden within its cheesy goodness and kids love that it is "a cheeseburger".
Tip: Substitue a 1 1/2 teaspoons of onion powder for chopped onions if you have super picky eaters.
Ingredients
1 pound ground beef
3/4 cup chopped onion
11 ounces condensed Cheddar cheese soup
1 cup frozen peas and carrots
1/4 cup milk
2 cups Bisquick
3/4 cup water
1 cup shredded Cheddar cheese.
Directions
Brown beef and onion in a skillet. Drain.
Stir soup, vegetables, and milk into meat then remove from heat.
Mix Bisquick and water until moist then spread into a greased 13x9-inch baking dish.
Add beef to top of batter and sprinkle with cheese.
Bake in a 400 degrees Fahrenheit oven for 30 minutes