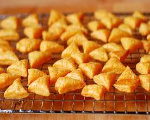 Prep: 45 min
Cook Time: 10 min
Total: 55 min
Serving: 64 crackers
Keep for two weeks. You can freshem them up by baking for 3-4 minutes in a 350 degree Fahreheit oven.
Ingredients
1/2 cup warm water
2 teaspoons active dry yeast
1 teaspoon sugar
1/4 teaspoon cayenne pepper
1/4 teaspoon salt
2 cups flour divided
1/2 cup margarine, slightly softened
1/4 cup grated Parmesan cheese
Directions
Combine the water, yeast and sugar. Allow to sit for 3 minutes. Beat in the cayenne peppers, salt and 1 1/4 cups flour until smooth. Cover. Set in a warm, draft free place for 30 minutes, or until doubled. Add in the margarine and Parmesan cheese, beat until blended. Add 1/2 cup flour, mix until smooth.
Place on a lightly floured surface. Divide in half, and roll each out to a 10 inch square. Poke all over with a fork. Using a knife or pastry wheel, cut each square into 16 equal pieces. Cut each of those 16 pieces diagonally in half so that you have 64 triangles.
Preheat oven to 425 degrees Fahrenheit. Place the triangle 1/4 inch apart on ungreased cookie sheets. Bake for 8-10 minutes or until lightly browned. Cool on racks and store in a airtight container in a cool place.