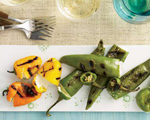 Prep: 20 min
Cook Time: 8 min
Total: 28 min
Serving: 4 Servings
These ricotta, Parmigiano-Reggiano and cream cheese stuffed peppers are a great hors devours to offer guests to snack on before grilling your main dish at a barbeque. Serve with glasses of Pinot Noir.
Ingredients
1 cup ricotta cheese, 8 ounces
1 cup cream cheese, at room temperature
1/2 cup freshly grated Parmigiano-Reggiano cheese
Salt and freshly ground pepper
4 Anaheim or Cubanelle peppers
4 baby bell peppers
4 small poblano chiles
Extra-virgin olive oil, for brushing
Directions
Prepare a grill on medium heat.
Place the ricotta, Parmigiano-Reggiano, cream cheese and a few pinches of salt and pepper in a bowl and mix together until thoroughly blended.
Cut a slit into the top of the pepper and then remove the seeds. Fill each pepper with the cheese mixture and then brush on both sides with olive oil. Place the peppers onto the grill and cook for 8 minutes. Serve immediately.