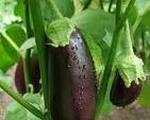 Prep: 20 min
Cook Time: 45 min
Total: 1 hr 5 min
Serving: 4
Cheese Stuffed Eggplant is worth the effort.
Ingredients
1 medium eggplant
4 tablespoons lemon juice
1, 8 ounce can tomato sauce
1/4 teaspoon oregano
1/2 cup onion, chopped
1 tablespoon butter
1/2 pound cooked ham, chopped
1/3 cup carrot, grated
1/4 cup celery, chopped fine
2 cups Cheddar cheese, shredded
1/2 teaspoon salt
Directions
Cut eggplant in half lengthwise. Scoop out pulp to within 1/2 inch of edge. Bring 2 cups of water, salt and 2 tablespoons lemon juice to a boil in 3 quart saucepan. Place eggplant shells in boiling water; cover. Parboil for 5 minutes. Drain and set aside.
Chop eggplant pulp. Combine pulp, tomato sauce, oregano and remaining 2 tablespoons lemon juice in 2 quart saucepan. Heat to boiling point; set aside.
Saute onion in butter in skillet until tender. Remove from heat. Stir in remaining ingredients. Spoon 2/3 of the tomato mixture into buttered 1 1/2 quart baking dish. Arrange eggplant shells on top. Spoon ham mixture into shells. Pour remaining tomato sauce over top. Bake at 375 degrees F for 25 to 30 minutes or until hot.