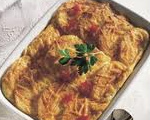 Prep: 4 hr 15 min
Cook Time: 45 min
Total: 5 hr
Serving: 6 servings
You can subsitute whole-grain bread and Cheddar cheese for the white bread and Swiss cheese.
Ingredients
6 slices of white bread, cut into cubes
1 can (10.75 ounces) condensed cheddar cheese soup
1 cup milk
4 eggs
1 1/2 cups shredded Swiss cheese (6 ounces)
Directions
Preheat oven to 350 degrees Fahrenheit
Grease a shallow baking dish with cooking spray. Put the bread cubes in the dish.
Whisk the milk, eggs and soup, mix in the cheese. Pour the mixture over the bread cubes. Cover and refrigerate for at least 4 hours.
Uncover and bake for 45 minutes, until a knife inserted in the middle comes out clean. Allow to stand for 10 minutes before serving.