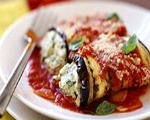 Prep: 20 min
Cook Time: 25 min
Total: 45 min
Serving: Serves 4 people
Cheese-filled eggplant rolls are a tasty and Italian-inspired meal. Easy to make and delicious, this recipes is a great vegetarian dish, too.
Ingredients
1 large eggplant
2 tablespoons olive oil, divided
1/2 teaspoon coarse salt
1/2 teaspoon freshly ground black pepper
1/3 cup ricotta cheese
1/3 cup goat cheese
1-1/2 cups marinara sauce, divided
1/2 cup shredded mozzarella cheese
Directions
Preheat your oven to 400 degrees F. Cut off the stem of the eggplant and peel the skin using a potato peeler. Slice the eggplant lengthwise into 1/4-inch-thick slices. Place a wire cooling rack on a baking sheet. Place the eggplant slices on the cooling rack and brush them lightly with olive oil, and season them with the salt and pepper. Roast the eggplant for about 8-10 minutes, then cover them with foil and set aside.
Use a small bowl and combine the ricotta and goat cheese. Rub an 8x8-inch baking dish with olive oil, including the sides. Spoon about 3/4 of a cup of the marinara sauce into the baking dish. Spread about 2 tablespoons of the cheese on top of the eggplant slices. Roll them up and arrange them seam-side down on the baking dish. To the rolls with the remaining marinara sauce and sprinkle with the mozzarella cheese.
Bake the rolls for another 15 minutes, or until the cheese has melted. Serve the eggplant rolls warm.