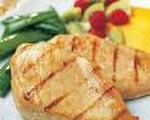 Prep: 30 min
Cook Time: 30 min
Total: 1 hr
Serving: 6
Melted Mozzarella cheese and mushrooms make Cheese Filled Chicken Cutlets a family favorite.
Ingredients
3 chicken breasts, skinned and boned
1 teaspoon salt
1/8 teaspoon pepper
3 tablespoons flour
3 tablespoons margarine
1/2 cup water
1/2 cup milk
1/2 pound fresh mushrooms, sliced
1/4 cup dry white wine
1 chicken flavored bouillon cube
1, 8 ounce package Mozzarella cheese, sliced
Directions
Slice breasts horizontally, making 12 cutlets pounded to 1/8 inch thickness.
Mix flour with salt and coat cutlets with mixture.
In a large skillet, melt margarine. Add cutlets, a few at a time, and cook until browned on both sides. Add more margarine if needed.
Remove cutlets and top 6 pieces with a slice of cheese. Top with remaining cutlets and skewer.
In the drippings, add 2 tablespoons margarine. Cook mushrooms, adding more flour to thicken. Stir in water, milk, wine and bouillon cube.
Return cutlets to pan and simmer 5 more minutes until cheese melts.
Remove skewers, serve at once.