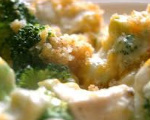 Prep: 20 min
Cook Time: 15 min
Total: 35 min
Serving: 4 servings
Creamy, cheesey chicken, nodle and broccoli dinner.
Ingredients
1 (10.5 ounce) can chicken a la king
1 (10.75 ounce) can cream of celery soup
3/4 cup shredded American cheese
1 teaspoon mustard
1/2 teaspoon Worcestershire sauce
1/2 teaspoon curry powder
2 cups fine noodles
1 (10 ounce) package frozen broccoli spears
Directions
Combine the chicken, soup, cheese and seasonings. Heat until the cheese melts, stirring often.
Cook the noodles according to the directions, using unsalted water. Drain and pour into a greased baking dish.
Cook the broccoli in salted water. Drain. Arrange on top of the noodles.
Pour the chicken mixture over the broccoli. Bake at 375 degrees Fahrenheit for 10-15 minutes.