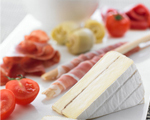 Prep: 30 min
Cook Time: –
Total: 30 min
Serving: Serves 6-8
When you don't have a lot of time to spend on appetizers but want something tasty for your guests to snack on with their wine, put together an elegant Antipasto plate with various cheeses, prosciutto and salami.
Ingredients
12 slices prosciutto
8 slices of Italian salami
12 thin bread sticks
20 whole-wheat crackers
15 cherry tomatoes cut in half
3 wedges of cheese, specialty goat cheese, specialty brie, specialty gouda
Pear chutney
1 jar Greek Kalamata olives
2 tablespoons olive oil
1 teaspoon oregano
1 teaspoon thyme
Directions
On a serving platter arrange the wedges of cheese, slices of salami, crackers and cherry tomatoes.
Place a prosciutto slice lengthwise on a flat surface and, starting at the bottom of a breadstick, roll the slice up and around the breadstick. Place on the platter and continue with remaining slices and breadsticks.
Drain the Kalamata olives and place in a small bowl. Drizzle with the olive oil and sprinkle with the oregano and thyme.
Empty the chutney into another small bowl and place on the platter.