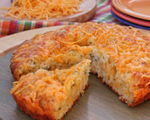 Prep: 10 min
Cook Time: 30 min
Total: 40 min
Serving: Makes 12 slices
This cheese and currant bread is a great appetizer to accompany a mixed fruit plate. Serve with glasses of White Bordeaux or a Merlot.
Ingredients
1-1/2 cups all-purpose flour
1/2 cup currants
1 teaspoon baking powder
1/2 teaspoon salt
1/4 teaspoon baking soda
1 cup shredded mozzarella cheese
1/4 cup shredded cheddar
3/4 cup buttermilk
2 tablespoons olive oil
1 egg
Directions
Preheat your oven to 375 degrees and grease a round 9x1-1/2-inch pan with cooking spray or olive oil.
Place the flour, currants, baking powder, salt and baking soda into a large bowl and mix well to combine. Add the mozzarella cheese, buttermilk, olive oil and the egg and continue to stir until the mixture is well-blended.
Transfer the batter to the prepared pan, top with the cheddar cheese and then place in the oven for 30 minutes or until the top turns golden brown. Let the bread stand for 10 minutes prior to cutting.