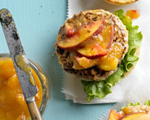 Prep: 15 min
Cook Time: 16 min
Total: 31 min
Serving: Makes 8 burgers
These posh turkey burgers are perfect for an upscale outdoor grill party when you want to serve something a bit more chic then just traditional burgers and dogs.
Ingredients
4 medium peaches, peeled and pitted and cut up
1/4 cup sugar
2 tablespoon cider vinegar
1 teaspoon chili powder
1/8 teaspoon cinnamon
Dash cayenne pepper
2 pounds ground turkey
3 ounces white cheddar or Havarti cheese, shredded (1/2 to 3/4 cup)
1 tablespoon olive oil
Leaf lettuce
8 hamburger buns, split and toasted
Sea salt and freshly ground pepper
Directions
Prepare the grill on medium-high heat.
Place the peaches, sugar, cider vinegar, chili powder, cinnamon, and cayenne pepper into a blender and process until mixture is smooth. Reserve half of the mixture and then transfer the remaining half to a bowl; cover and place in the refrigerator until ready to use.
Put the ground turkey into a bowl along with the reserved peach ketchup and a few pinches of salt and pepper. Combine the mixture until blended and then form into 8 balls. Place some cheese in the middle of each ball, shape the meat to cover the cheese and then flatten to form patties.
Place the turkey burgers onto the grill and cook for about 8 minutes per side, flipping once; transfer to the toasted buns. Slather each burger with the chilled peach ketchup, top with some lettuce and serve immediately.