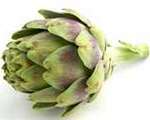 Prep: 20 min
Cook Time: 15 min
Total: 35 min
Serving: 12
Cheddar Artichoke Puffs are made with puff pastry and will be a hit at your next shindig.
Ingredients
1/2 cup mayonaise
3/4 cup Cheddar cheese, shredded
1/8 teaspoon onion salt
1 teaspoon dill weed
1/8 teaspoon lemon pepper
1, 6 ounce can artichoke hearts
1 package frozen puff pastry
Directions
Preheat oven to 375 degrees F. Take puff pastry out of freezer and follow package instructions. Mix mayonaise, cheese, onion salt, dill and lemon pepper. Chill.
Cut each artichoke heart in six pieces. Roll out dough as thin as possible on lightly floured surface. Place a piece of artichoke on dough. Top with 1 1/2 teaspoons of mayonaise mixture. Fold dough over filling. Use a round cookie cutter, dipped in flour, to cut out circles.
Place on baking sheet. Brush with beaten egg yolk and bake for 12 to 15 minutes or until golden brown.