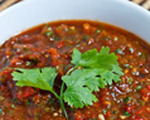 Prep: 15 min
Cook Time: 45 min
Total: 1 hr
Serving: 4 people
Make this for a summer bbq or for Cinco De Mayo!
Ingredients
3 vine ripened tomatoes
1 teaspoon jalapeno chile peppers, minced
4 1/2 teaspoon red onion, diced small
1/8 bunch cilantro, rinsed & chopped
2 3/4 teaspoon oregano, fresh & chopped
2 3/4 teaspoon garlic cloves, minced
1/4 teaspoon fresh ground black pepper
1 1/2 teaspoon lime juice, fresh squeezed
Directions
Remove cores from tomatoes using a paring knife or tomato shark.
Pre-heat open flame grill
Lightly coat tomatoes with aerosol cooking spray or olive oil
Place tomatoes on hot grill; allow skin of tomatoes to blacken slightly, turning with a pair of tongs to ensure even roasting
Remove tomatoes from heat and place in mixing bowl. Allow to rest & cool down for 20-30 minutes
Peel most of the blackened skin from the tomatoes
Dice tomatoes and combine with all other ingredients. Mix well.