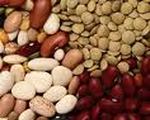 Prep: 35 min
Cook Time: 50 min
Total: 1 hr 25 min
Serving: 6
Celery Stew is bursting with vegetables and will become a vegetarian's favorite.
Ingredients
4 cups celery, cut into 1/2 inch chunks
1 red pepper, chopped
1 1/2 cups onion, sliced
3 tablespoons butter
1 tablespoons olive oil
1 garlic clove, minced
1/2 teaspoon celery salt
4 tomatoes, chopped and seeded
1/2 cup dill, chopped
1/2 cup hot vegetable broth
2 cups white navy beans, cooked
salt and pepper to taste
Directions
Blanch celery in boiling water for 5 minutes. Drain. Cook peppers and onions in butter and oil until wilted and lightly browned. Add garlic to pan and cook 1 minute. Stir in celery and celery salt.
Cover and cook over medium heat for 20 minutes, stirring occasionally. Add tomatoes, herbs, and broth. Cover and cook for 15 minutes longer, until celery is tender. Stir in beans and cook until heated through.
Season to taste and serve hot.