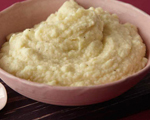 Prep: 10 min
Cook Time: 20 min
Total: 30 min
Serving: 2-1/2 Servings
A nice change after the holidays from having mashed potatoes again, this celery root and parsnip puree is a smooth and creamy alternative.
Ingredients
1 pound celery root, peeled and cut into 1-inch pieces
1/4 pound parsnip, cut into 1-inch pieces
1/3 cup heavy cream
1 tablespoon unsalted butter
1/2 teaspoon kosher salt
1/4 teaspoon black pepper
Directions
Steam the celery root and parsnip in a steamer, as recommended by manufacturer, or in a steamer basket over boiling water for about 20 minutes.
Carefully transfer the hot vegetables to a food processor and then add the cream, butter, salt and pepper.
Pulse the mixture until smooth and then season with some salt and pepper to taste. Serve warm.