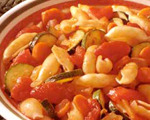 Prep: 10 min
Cook Time: 15 min
Total: 25 min
Serving: Sevres 2 as a main dish
Cavatelli are small pasta shells with a rolled edge that are usually served with thick and chunky sauces. Feel free to substitute with orecchiette, gnocchetti or rotini pasta.
Photo originally appeared on www.bhg.com
Ingredients
1/2 cup packaged dried cavatelli pasta
1 large onion, chopped (1 cup)
1/4 cup thinly sliced carrot
1 clove garlic, minced
2 tablespoons olive oil
1 (14-1/2-ounce) can Italian-style stewed tomatoes
1 small zucchini, halved lengthwise and sliced 1/4 inch thick
1/2 teaspoon fennel seed, crushed
1/8 teaspoon crushed red pepper
Directions
Cook the pasta in accordance with directions on package.
In the meantime, place the oil into a large sauté pan over medium heat. Once it begins to shimmer, add the onion, carrot, and garlic and sauté the mixture for 5 minutes.
Stir in the tomatoes, zucchini, fennel seed, and crushed red pepper, bring the mixture to a boil and then reduce the heat and simmer for 3 minutes. Transfer the pasta to the pan and toss well to combine. Serve immediately.