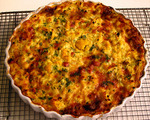 Prep: –
Cook Time: –
Total: –
Serving: Makes 6 servings
This fabulous cauliflower quiche may be served for brunch or as an appetizer. Prepare all the ingredients ahead of time and bake right before your guests arrive.
Ingredients
1 clove garlic, minced
1/2 c. minced scallions
1 1/2 c. shredded Swiss cheese
3 eggs, lightly beaten with fork
3/4 c. milk
1 tsp. salt (to taste)
Pepper to taste
1 tsp. each crumbled basil and rosemary
1/2 tsp. celery seed
Mushrooms (optional, but if used, saute with garlic and scallions)
1 pkg. frozen cauliflower or substitute chopped spinach or chopped broccoli
1 baked pie crust
Directions
Saute garlic and green onions in butter until golden brown. Add chopped cauliflower (or substitute); cook over medium heat until water is absorbed; salt and pepper
In a medium bowl, whisk together eggs, milk, basil, rosemary, and celery seed until fluffy. Add shredded Swiss cheese. Add sauteed vegetables.Pour into a prepared pie crust shell
Arrange thinly sliced tomatoes on the top of quiche mixture. Sprinkle with Parmesan cheese.
Bake in hot oven (425 degrees) for 15 minutes; lower temperature to 350 degrees and bake about 15 minutes longer or until top is puffy and center is firm to touch.