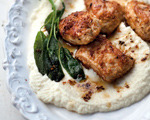 Prep: 10 min
Cook Time: 20 min
Total: 30 min
Serving: 4 Servings
This simple main dish recipe takes only 30 minutes to create even though its rich and intense mix of flavors suggests otherwise. Serve with a bottle of American rosé or a White Sancerre.
Ingredients
3 tablespoons olive oil
2 tablespoons butter
4 chicken breasts, cut into chunks
1/3 cup dried, flaked coconut
1/3 cup fresh sage leaves
2 medium heads cauliflower, cut into chunks
1/2 cup cream
sea salt and freshly ground black pepper, to taste
Directions
Place the olive oil and 1 tablespoon of butter into a large sauté or frying pan over medium heat. Once the oil mixture begins to shimmer, dredge the chicken in the flaked coconut and place in the pan. Fry the chicken until crispy and cooked through.
Remove the cooked chicken from the pan and then add the sage. Fry over medium heat until fragrant and then remove the pan from the heat.
In the meantime, put the cauliflower into a steamer basket and place over a saucepan of boiling water. Steam the cauliflower until tender, about 20 minutes, and then place in a bowl along with the cream, butter and a few pinches of salt and pepper. Mash or puree the mixture until smooth.
Divide the cauliflower puree between 4 plates and then top with the coconut chicken and the fried sage. Serve immediately.