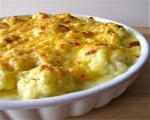 Prep: 10 min
Cook Time: 25 min
Total: 35 min
Serving: Serves 4 people
Perfect for a side dish, Cauliflower in Cheese Sauce is a great way to deliciously add some veggies to your life.
Ingredients
1 medium cauliflower, trimmed and cut into florets
2 tablespoons butter
4 tablespoons all-purpose flour
1-1/4 cup milk
3/4 cup sharp cheese (Stilton), grated
Salt and pepper to taste
Directions
Bring a pan of lightly salted water to boil (enough to just cover the cauliflower). Once boiling, add the cauliflower and cook until tender (6-8 minutes). Drain and transfer to a baking dish.
Melt the butter in a medium-sized pan over medium heat. Add the flour, stirring constantly for about a minute (be sure not to let the flour mixture brown). Remove the mix from the heat and gradually stir in the milk.
Return the mixture to medium-high heat and cook, stirring constantly, until thick and it comes to a boil. After it boils, let it simmer for a few minutes.
Add almost all the cheese to the sauce and season with salt and pepper to taste. Spoon the sauce over the cauliflower, then add the remaining cheese to the top. Place under a broiler for a few minutes until the cheese begins to bubble and brown (keep a close eye on the dish so it doesn't burn).