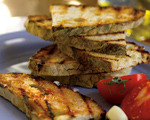 Prep: 10 min
Cook Time: 6 min
Total: 16 min
Serving: Makes 8 Slices
These grilled slices of peasant bread are first rubbed with garlic and tomato and then drizzled with olive oil. Serve this dish as a chic and minimal appetizer accompanied with a light-bodied Trappist ale to compliment the sweet taste of the tomato.
Ingredients
4 very ripe tomatoes, cut in half
4 cloves garlic (optional), cut in half
8 slices country-style bread, cut 1/2 inch thick
extra-virgin olive oil
Sea salt
Freshly ground black pepper
Directions
Prepare a grill on medium heat.
In the meantime, cut the tomatoes and the garlic cloves in half and then place two halves of each onto 4 separate plates.
Place the bread onto the grill and cook for 3 minutes on each side. Transfer the bread to the prepared plates and serve immediately.
Have guests rub the bread with the cut slide of the garlic and then with the cut side of the tomato. Drizzle some olive oil over each slice and then sprinkle with a pinch of salt and pepper.