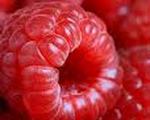 Prep: 6 hr 15 min
Cook Time: 10 min
Total: 6 hr 25 min
Serving: 6
Cassis Sorbet can be made up to a month ahead and stored in the freezer.
Ingredients
2 1/4 cups water
1/2 cup sugar
1, 10 ounce package frozen raspberries in quick thaw pouch, thawed
1/3 cup black currant or black raspberry liqueur
3 tablespoons lemon juice
1/4 teaspoon salt
Directions
In 2 quart saucepan over medium heat, heat water and sugar to boiling; boil 5 minutes, stirring occasionally. Refrigerate sugar syrup until chilled, about 2 hours.
In blender at medium speed, blend raspberries, liqueur, lemon juice and salt until smooth. Press raspberry mixture through sieve to remove seeds.
Stir raspberry mixture into cooled sugar syrup until mixed; pour mixture into an 8 inch square baking pan. Cover pan with foil or plastic wrap and freeze until firm, about 3 1/2 hours, stirring occasionally.
Let sorbet stand at room temperature 10 minutes to soften slightly. Spoon sorbet into small glasses.