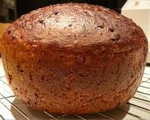 Prep: 1 hr
Cook Time: 50 min
Total: 1 hr 50 min
Serving: 1 casserole dish loaf
Ingredients
1 cup and 2 tablespoons milk
3 talespoons sugar
1 tablespoon salt
1 1/2 tablespoons shortening
2 packages of cakes yeast
1 cup warm water
2 teaspoons caraway seeds
3 cups sifted flour
1 1/2 cups unsifted rye flour
Directions
Preheat oven to 400 degrees Fahrenheit. Grease a 1 1/2 quart casserole dish.
Scald 1 cup of milk. Stir in the sugar, salt and shortening. Allow it to come to lukewarm temperature.
Dissolve the yeast in the warm water, add to the milk mixture.
Add 1 teaspoon of the caraway seeds and all the flours. Mix until well blended.
Cover the bowl and allow it to rise until doubled, about 50 minutes.
Stir for 30 seconds, pour into the prepared casserole dish. Brush the top with the remaining milk and caraway seeds.
Bake for 50 minutes or until done. Cool on rack.