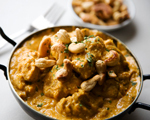 Prep: 1 hr
Cook Time: 33 min
Total: 1 hr 33 min
Serving: 4 to 6 servings
This dish is bubbling over with wonderful Indian flavors and textures. Serve with hot white rice and a cold Indian beer.
Ingredients
Two pounds of chicken
3/4 cup and 3 teaspoons plain Greek yogurt
1 large sized onion, chopped fine
5 teaspoons of unsalted roasted cashew nuts
1 2-inch long cinnamon stick
2-1/2 teaspoons red chili powder
1 teaspoon turmeric powder
salt to taste
2 tablespoons olive oil
4 tablespoon chopped cilantro
Directions
Rinse the chicken under cold water and then part dry. Cut into 1-inch cubes and place into a large bowl.
Add the 3/4 cup yogurt, turmeric powder and a sprinkle of salt to the bowl and mix well to combine. Place the chicken, covered, into the refrigerator to marinate for 1 hour.
Place 2-1/2 teaspoons of cashew nuts with the remaining 3 teaspoons of yogurt in a blender, and blend to make a thick paste.
In a large sauté pan, heat the olive oil over medium heat and add the cashew mixture. Sauté for 2-3 minutes until golden brown and then set aside.
Add the onions to the pan and sauté with the cinnamon stick for 5 minutes. Sprinkle in the chili powder with 3/4 cup of water and bring the mixture to a boil.
When the mixture boils, add the chicken and the yogurt marinade and bring to a simmer. Lower the heat, cover the pan and simmer until chicken is done, about 20 minutes.
Add the cashew mixture and cook for another 5 minutes. Spoon over white rice and garnish with the remaining cashew nuts and some chopped cilantro.