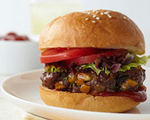 Prep: 10 min
Cook Time: 16 min
Total: 26 min
Serving: 4 Servings
These hamburgers are given exotic flavor and aroma with the addition of apricots, toasted pine nuts, cumin, cinnamon, coriander and garlic.
Ingredients
1 pound ground beef (85% lean)
1/3 cup finely snipped dried apricots
2 tablespoons pine nuts, toasted
2 tablespoons chopped fresh cilantro
2 cloves garlic, minced
1/2 teaspoon salt
1/2 teaspoon ground cumin
1/4 teaspoon ground cinnamon
1/4 teaspoon ground coriander
1/4 teaspoon ground black pepper
4 kaiser rolls
Lettuce
Tomato slices
1/3 cup ketchup
1/8 teaspoon ground cumin
1/8 teaspoon ground cinnamon
1/8 teaspoon ground coriander
1/8 teaspoon freshly ground black pepper
Directions
Prepare the grill on medium heat.
Put the beef, apricots, pine nuts, cilantro, garlic, salt, cumin, cinnamon, coriander, and pepper into a large bowl and mix to combine. Shape the mixture into 4 patties and then place on the hot grill. Cook the burgers for 16 minutes, flipping once halfway through the cooking time.
In the meantime, place the ketchup and 1/8 teaspoon each of cumin, cinnamon, coriander and black pepper into a bowl and vigorously stir to combine.
Place the burgers onto the rolls and top with the ketchup mixture, lettuce and tomato slices.