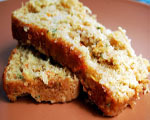 Prep: 15 min
Cook Time: 1 hr 15 min
Total: 1 hr 30 min
Serving: Makes 2 loaves
This sweet and moist bread makes an excellent breakfast treat or afternoon snack. Ideal for gift-giving.
Ingredients
3-1/2 cups flour
1 tablespoon baking powder
1 teaspoon baking soda
1/2 teaspoon salt
1 teaspoon cinnamon
2 eggs
1-1/2 cups buttermilk
2 tablespoons butter, melted
1/2 cup brown sugar
1 cup shredded zucchini
1 cup shredded carrot
1/2 cup grated orange peel
1/2 cup grated lemon peel
1/2 cup chopped nuts
Directions
Combine flour, baking powder, baking soda, salt and cinnamon.
In a separate bowl, beat eggs, buttermilk and butter.
Stir in brown sugar.
Fold in zucchini, carrots, orange and lemon peels.
Blend flour combination into zucchini mixture.
Fold in chopped nuts.
Pour batter into greased loaf pans.
Bake at 350 degrees for 1 hour and 15 minutes.