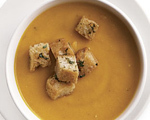 Prep: 10 min
Cook Time: 41 min
Total: 51 min
Serving: 4 Servings
This may become your next favorite comfort food; a creamy carrot soup sprinkled with chili flavored crispy croutons.
Ingredients
3 tablespoons olive oil
4 cups sliced onions
4 cups sliced carrots
32 ounces reduced-sodium chicken broth
Salt and freshly ground pepper
2 ounces crusty bread, cut into 1/2-inch cubes
1 tablespoon chopped fresh chervil
1-1/2 teaspoons olive oil
1/4 teaspoon chili powder
Directions
Preheat the oven to 450 degrees.
Place the 3 tablespoons of olive oil in a soup pot over medium heat; add the onions and sauté for 10 minutes.
Stir in the carrots; sprinkle the mixture with salt and pepper and sauté for an additional 10 minutes.
In the meantime, place the bread cubes into a bowl and sprinkle with the olive oil, chervil and the chili powder. Transfer to a baking sheet and place in the oven for 6 minutes.
Pour the broth into the carrot mixture and bring to a simmer. Cook, covered, for 15 minutes and then remove from heat. Carefully blend the soup with a handheld mixer until smooth and then ladle into bowls.
Top with the croutons and serve immediately.