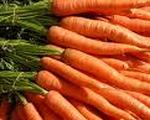 Prep: 15 min
Cook Time: 25 min
Total: 40 min
Serving: 8
Sweet and tender, Carrot Raisin Bars are topped with an orange glaze.
Ingredients
2/3 cup brown sugar
6 tablespoons butter, softened
1 egg
1 teaspoon vanilla
grated rind of orange
3/4 cup flour
1/4 cup non-fat dry milk
1 teaspoon cinnamon
1/2 teaspoon baking soda
1/4 teaspoon salt
1 1/2 cups grated carrots
1 1/2 cups granola cereal
1 cup raisins
Orange glaze: 1 cup confectioner's sugar
grated rind of 1 orange and 2 tablespoons orange juice
Directions
In mixer bowl, beat sugar and butter until creamy. Add egg, vanilla and orange rind; beat until fluffy. Add flour, dry milk, cinnamon, soda and salt; beat until well blended.
Mix in carrots, granola and raisins. Spread batter into greased 9 by 13 inch baking pan; bake 25 minutes at 350 degrees F or until pick inserted into center comes out clean. Cool completely on rack.
Glaze: In small bowl beat the confectioner's sugar, rind and orange juice until smooth. Spread glaze over bars.