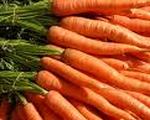 Prep: 20 min
Cook Time: 1 hr
Total: 1 hr 20 min
Serving: 10-12
Carrot Pineapple Cake is chock full of nuts and raisins. The cream cheese frosting makes this a 14 Karat Gold cake!
Ingredients
1 3/4 cup flour
1 teaspoon baking soda
1/4 teaspoon salt
1/4 teaspoon cinnamon
1/4 teaspoon nutmeg
1/4 teaspoon allspice
1/4 teaspoon cloves
1/2 pound carrots, shredded
2 eggs
3/4 cup butter, melted
1/4 cup sugar
1 teaspoon vanilla
1/3 cup coconut
1 cup walnuts, chopped
1/2 cup crushed pineapple, drained
1/4 cup raisins
For Cream Cheese Frosting: 1/2 cup confectioner's sugar
1 teaspoon vanilla
3 tablespoons butter, softened
1 3 ounce package cream cheese, softened
Directions
For cake: In a large bowl mix flour, spices, carrots. Add the remaining ingredients and mix well. Stir in walnuts and raisins.
Pour batter into a well greased 8 cup tube pan. Bake at 350 degrees F for 45 minutes to 1 hour. Test for doneness with a toothpick. Cook cake on rake.
For the Frosting: Mix all the ingredients together until smooth. Spread on cooled cake.