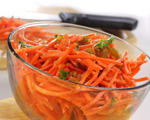 Prep: 1 hr 10 min
Cook Time: 5 min
Total: 1 hr 15 min
Serving: 4 Servings
This sweet and refreshing salad acts as a delicious contrast of flavor when served as a side to grilled steak and poultry.
Ingredients
1/2 cup seedless golden raisins
1 cup water
1/2 cup mayonnaise
1/4 teaspoon salt
1/8 teaspoon white pepper
2 cups carrots, grated
1 cup crushed pineapple, drained
Directions
Place the raisins and the water into a small saucepan and bring to a boil. Once boiling, remove the pan from the heat, carefully drain and then set the raisins aside to cool.
Put the mayonnaise, salt and pepper into a salad bow and mix vigorously to blend. Add the cooled raisins, carrots and pineapple to the bowl and carefully fold the ingredients to combine.
Cover the salad and place in the refrigerator for 1 hour to chill prior to serving.