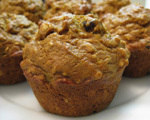 Prep: 15 min
Cook Time: 25 min
Total: 40 min
Serving: 18 People
These soft muffins make an excellent snack, especially alongside a hot cup of coffee.
Ingredients
1 cup flour
1 cup whole wheat flour
2 teaspoons baking soda
1 teaspoon baking powder
1/4 teaspoon salt
1 teaspoon cinnamon
3/4 cup sugar
3/4 cup brown sugar
1 cup canola oil
3 eggs
1 teaspoon vanilla
1/2 cup quick-cooking oats
1/2 cup flaked coconut
1/2 cup raisins
2 cups shredded carrots
1 cup crushed pineapple, drained (reserve juice)
1/4 cup cream cheese, softened
Directions
Combine flour, whole wheat flour, baking soda, baking powder, salt and cinnamon; set aside.
Cream sugar, brown sugar, canola oil, eggs and vanilla.
Blend flour combination into egg mixture.
Fold in oats, coconut, raisins, carrots and pineapple.
In a separate bowl, mix together reserved pineapple juice and cream cheese.
Pour batter halfway into greased muffin tins.
Add 1 teaspoon of cream cheese mixture to each muffin cup; top with remaining batter.
Bake at 350 degrees for 25 minutes.