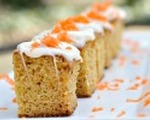 Prep: 15 min
Cook Time: 35 min
Total: 50 min
Serving: 8 People
Carrot cake is the unofficial dessert of the spring because it's such a big hit during Easter. Instead of serving up a giant cake at your Easter or spring brunch, serve up these bite size carrot cake bars instead. They are easy to make, easy to prepare and even easier to eat! Plus, this recipe is made with half applesauce, whole wheat flour and low-fat cream cheese frosting, so you can indulge in these bite size bars all you want without any guilt.
Ingredients
FOR THE CAKE
1/2 cup white sugar
1/2 cup brown sugar
3 eggs
3/4 cup corn or canola oil
1/4 cup unsweetened applesauce
1 cup all purpose flour
1 cup whole wheat flour
1 teaspoon cinnamon
1 teaspoon nutmeg
Salt
2-1/2 cups shredded carrots
1 cup chopped nuts
FOR THE FROSTING
2/3 cup light cream cheese
2 cups powdered sugar
1 teaspoon vanilla extract
Directions
Preheat oven to 350 degrees F. Liberally grease an 8x8 cake pan with nonstick cooking spray.
Mix sugars, oil, eggs and applesauce together until fully mixed. Sift in flours, cinnamon, nutmeg and salt until mixture is combined. Fold in carrots and almonds; mix well. Pour mixture into the prepared cake pan.
Bake for 30-35 minutes or until a toothpick inserted into the middle comes out dry. Let cake cool completely before you frost.
While cake cools, prepare frosting by mixing cream cheese, powdered sugar and vanilla together with a handheld mixer. Frost cake bars once cooled and garnish with additional shredded carrots.