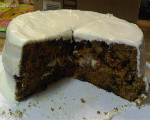 Prep: 30 min
Cook Time: 45 min
Total: 1 hr 15 min
Serving: 10-12 people
A dense, flavorful carrot cake.
Ingredients
4 eggs
3/4 cup vegetable, canola or coconut oil
1/2 cup applesauce
1 cup white sugar
1 cup brown sugar
2 teaspoons vanilla extract
2 cups flour
2 teaspoons baking soda
2 teaspoons baking powder
1/2 teaspoon salt
3 teaspoons ground cinnamon
1/4 teaspoon nutmeg
1 cup chopped walnuts
Approximately 6-8 carrots
1 cup raisins
Directions
Preheat oven to 335 degrees Fahrenheit for 2 9 inch round cakes, 350 for a 9 by 13 inch cake pan. Grease your pan(s) of choice.
Wash and peel the carrots. Using the large side of a cheese grater, grate the carrots until you have 3 cups worth. Avoid letting the carrots get to wet or mushy.
In a large bowl beat your eggs, oil, applesauce, sugars and vanilla.
Add flour, salt, baking soda, baking powder, nutmeg and cinnamon until well mixed.
Mix in carrots, raisins and walnuts until well incorporated.
Pour into your prepared pans, gently pat the bottom of your pan on the counter to release any air bubbles.
Bake in preheated oven for approximately 38 minutes for the 9 inch rounds, 40-50 for the 9 by 13, or until a toothpick inserted in the center comes out with crumbles (not with batter).
Allow to cool for 10 minutes in the pan, then remove from the pan and allow to cool the rest of the way. Chill before frosting and serving.