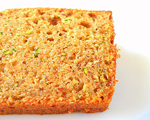 Prep: 10 min
Cook Time: 1 hr
Total: 1 hr 10 min
Serving: 15 People
An easy recipe for getting kids to eat more vegetables! To bake in a 9x13 baking pan, bake at 350 degrees for 30-35 minutes.
Ingredients
3 cup flour
1 cup brown sugar
2 teaspoon baking powder
1 teaspoon salt
1 cup sugar
3 teaspoon cinnamon
1 teaspoon baking soda
1 teaspoon ginger
3 eggs
3/4 cup vegetable oil
2 cup grated carrots
3/4 cup orange juice
1 teaspoon vanilla
Directions
In a large bowl, mix together flour, sugar, brown sugar, cinnamon, baking powder, baking soda, salt and ginger.
In a separate bowl, beat eggs, orange juice, vegetable oil and vanilla. Pour into dry ingredients just until moistened.
Fold in carrots.
Bake at 350 degrees for 1 hour or until toothpick comes out clean.
Let cool for 10 minutes before serving.