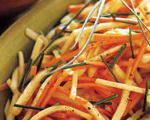 Prep: 10 min
Cook Time: 15 min
Total: 25 min
Serving: Makes 6 to 8 Servings
You can also add rutabaga to this root vegetable side dish. Serve it as an elegant accompaniment to roasted meat or poultry.
Ingredients
1-1/4 pounds turnip
1 pound carrots
1/4 cup (1/2 stick) butter
1/4 cup fresh lemon juice
3 tablespoons honey
1 teaspoon grated lemon peel
1/2 cup chopped fresh chives
Directions
Peel the turnips and the carrots and then cut each into matchstick-size strips.
In the meantime, bring a large pot of salted water to boil.
Add the sliced vegetables to the water and cook for 6 minutes, drain and then set aside.
Put the butter into a large sauté pan over medium-high heat. Whisk in the lemon juice, honey and lemon peel and then bring the mixture to a boil. Once boiling, add the cooked vegetables and then cover the pan and cook for 6 minutes.
Remove the pan from the heat, season to taste with salt and pepper, and then sprinkle in the fresh chives. Serve immediately.