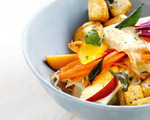 Prep: 15 min
Cook Time: 8 min
Total: 23 min
Serving: 4 Servings
This sweet and savory slaw is filled with a myriad of vibrant colors and textures. It can be enjoyed as a light lunch or served as a side salad to pork, beef, seafood or poultry dishes.
Ingredients
1/4 cabbage, finely sliced or shredded
1 small red onion, finely sliced or shredded
4 carrots, peeled and grated
3 ripe peaches, sliced into thin wedges
2 tablespoons garam masala
1 teaspoon sea salt
4 tablespoons mayonnaise
Olive oil
7 ounces tofu, cut into 1-inch cubes
1 teaspoon black pepper, freshly ground
2 tablespoons curry leaves
Directions
Place the cabbage, onion, carrots and peaches together into a bowl and toss to combine. Sprinkle the mixture with the garam masala and the sea salt, and then add the mayonnaise. Toss the mixture once again to coat and then set aside.
Pour enough oil into a sauté pan to coat the bottom of the pan and then place over medium-high heat. Coat the tofu cubes in the black pepper and then add to the pan once the oil begins to shimmer. Fry the tofu until golden in color and then remove from the pan. Add the curry leaves and fry for about 2 minutes until crisp.
Place the fried tofu and curry leaves into the salad, toss gently and serve immediately.