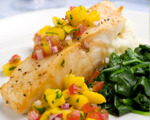 Prep: –
Cook Time: –
Total: –
Serving: 4-6 People
Time to walk the planks with your pirates, young and old! Talk like a pirate night is complete when you serve this fabulous Caribbean coconut fish with a tropical salsa. Grab a hoop earring, a pirate patch and a bandana for this fun family dinner.
Ingredients
4 (6 to 8 ounces) fish (like mahi mahi, cobia, snapper or even shark steak)
1/2 can coconut milk (use the rest in another recipe)
4 tablespoons butter, melted
1/2 cup panko (can use plain breadcrumbs or corn flakes that you put through a blender or food processor)
1 cup coarsely ground nuts (macadamia nuts, pecans, whatever)
1 cup shredded coconut
Sea salt and pepper
Cayenne pepper (optional)
3 peaches, pitted and diced (skin removed)
1 mango, chopped
1/2 cup red onion, diced
1 bunch of cilantro, chopped
1 habanero pepper, finely diced (careful not to touch your eyes!)
Pinch of salt and pepper
Juice of 1 lime
Directions
Prepare the tropical salsa by mixing together the peaches, mango, red onion, cilantro, habanero, salt, pepper and lime.
Preheat your oven to 425 degrees F.
Soak the fish in the coconut milk for about an hour before cooking.
In a pie pan or bowl, combine the melted butter, panko (or breadcrumbs), nuts and coconut.
Remove the fish from the coconut milk and season the fish on both sides with salt, pepper and the cayenne (if you like the heat).
Dredge the fish into the coconut mixture, patting the mixture onto the fish.
Line a cookie sheet with some aluminum foil and lightly spray the foil with some cooking spray.
Place the fish on the foil-lined sheet and bake it for 15-20 minutes, or until the crust is a golden brown.
Serve the tropical salsa on top of the fish.