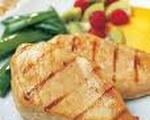 Prep: 30 min
Cook Time: 22 min
Total: 52 min
Serving: 4
Served in individual foil packets, Caribbean Chicken, is a unique and fun way to celebrate the bounty of the tropics.
Ingredients
4 cups cooked rice
non-stick cooking spray
3 tablespoons lime juice
1/4 cup flaked coconut
1 tablespoon Caribbean jerk seasoning
2 heaping tablespoons brown sugar
1, 15 ounce can pineapple tidbits in juice, undrained
1 medium red bell pepper, chopped
1/4 cup green onions, chopped
4 boneless chicken breast halves
4 sheets (12 by 18 inch) aluminum foil
Directions
Spray foil with cooking spray. Combine rice, red pepper, onion, coconut, pineapple, brown sugar and lime juice in a mixing bowl. Center 1/4 cup of rice mixture on each foil sheet.
Rub jerk seasoning on chicken and place breast on top of rice mixture. Bring up foil sides and double fold top and ends to seal into a packet, leaving room inside for heat circulation.
Bake 22 minutes on a cookie sheet at 400 degrees F or until juices run clear. Open carefully to let steam escape.