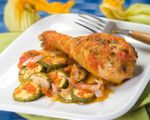 Prep: 15 min
Cook Time: 8 hr
Total: 8 hr 15 min
Serving: 6
This wonderfully spicy chicken dish is fabulous when served with wild rice.
Ingredients
6 chicken breasts, boned and skinless
1 tablespoon oil
6 small red potatoes, cubed
3 tomatoes, chopped
1 onion, chopped
1 green bell pepper, chopped
1 clove garlic, minced
1 tablespoon brown sugar
1 teaspoon ground ginger
1 teaspoon pepper
1/4 teaspoon cayenne
1/4 teaspoon dried thyme
1/4 teaspoon salt
1/2 cup chicken broth
1-1/2 cups coconut milk
Directions
In a skillet, brown the chicken in oil over medium-high heat.
Using a slotted spoon, transfer the chicken to the crock pot.
Add the potatoes and tomatoes to the crock pot.
Add the onion, green pepper, garlic, brown sugar, ginger, pepper, cayenne, thyme and salt to the skillet and cook over medium-high heat for three minutes.
Stir the broth into the skillet, then transfer the mixture to the crock pot.
Cook on low for six to eight hours, or on high for three to four hours.
Stir in the coconut milk and cook for an additional 30 minutes on low.