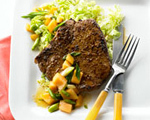 Prep: 15 min
Cook Time: 12 min
Total: 27 min
Serving: 4 Servings
A sweet and savory cantaloupe, orange and hoisin sauce creates a delicious caramelized glaze for these pork chops.
Ingredients
1 small cantaloupe, chopped, rind and seeds removed
1/4 cup orange juice
3 tablespoons hoisin sauce
4 center cut pork chops, 1/2-inch thick
3 green onions, thinly sliced
Directions
Place 2 cups of the cantaloupe and the orange juice into a food processor and blend until mixture is smooth.
Strain half of the mixture, set aside, and then place the other half into a bowl with the hoisin sauce; stir to combine.
Season the pork chops on both sides with a few pinches of salt and pepper and then brush with the hoisin mixture. Place the chops into a hot skillet coated with 1 tablespoon of olive oil and cook for 4 minutes on each side.
Remove the chops from the pan and add the strained cantaloupe mixture, the remaining chopped melon and the green onions. Cook over medium heat until warm and then spoon over the chops.