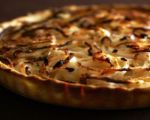 Prep: 30 min
Cook Time: 1 hr 45 min
Total: 2 hr 15 min
Serving: Serves 6 people
Perfect for brunch, a light lunch or an impromptu dinner, Caramelized Onion Tart is tasty served warm and with a green salad.
Ingredients
1 tablespoon sweet butter, unsalted
1 tablespoon extra-virgin olive oil
1-1/4 pounds onions, sliced
Pinch of ground nutmeg
1 tablespoon of dark brown sugar
2 eggs
2/3 cup light whipping cream
1/2 cup Gruyere cheese (you can substitute Swiss)
Salt and pepper to taste
2/3 cup all-purpose flour
2/3 cup whole-wheat flour
6 tablespoons sweet butter (unsalted)
1 egg yolk
Directions
Begin with the pastry by massaging the butter and plain and whole wheat flours together until the ingredients turn to a breadcrumb-like consistency. Next, mix the egg yolk and cold water into the mix to form a dough.
On a lightly floured surface, form the dough into a ball, cover it and refrigerate for about 30 minutes.
For the filling, using a large saute pan, melt the butter and add the olive oil over low heat. Add the onions and cook, stirring constantly, for about 30 minutes or until very soft. Add the nutmeg, brown sugar, salt and pepper. Cook for another 5 minutes until the onions caramelize. Remove from heat and set aside.
Preheat your oven to 425 degrees F. Lightly grease a 14x14-inch fluted pan (you can use square or round pan of about the same dimensions). If you don't have a fluted pan, use a baking sheet instead. Roll out the dough and fill the fluted pan with it and trim the top. If using a baking sheet, try to form short "walls" with the dough if it doesn't take up the entire sheet. Trim the excess dough and refrigerate for about 20 minutes.
Use a fork to prick the bottom of the dough in the pan. So the pastry doesn't bubble up when baking, top the dough with parchment and add pie weights (or dried beans if you don't have pie weights). Bake for about 20 minutes.
After baking, remove the weights and parchment paper and spoon the onion mixture into the pastry.
In a small bowl, beat the eggs and cream and add the cheese. Season to taste. Pour the mixture over the onions and bake for about 30 minutes (until the mixture is set and onion begin to turn brown).