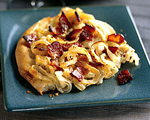 Prep: 10 min
Cook Time: 1 hr 5 min
Total: 1 hr 15 min
Serving: Makes 1, 8-inch tart
The sweet and salty combination from the caramelized onion and the bacon give this tart a delicious balance of flavors. Add this dish to your Thanksgiving Day table or to your next dinner party's menu.
Ingredients
4 slices bacon, cut into 1/2-inch pieces
4 small onions, cut in half lengthwise and thickly sliced
1 tablespoon plus 1 teaspoon fresh thyme leaves, chopped
Sea salt
1 cup whole milk ricotta cheese
1 egg yolk
Freshly ground pepper
1/4 cup plus 1 tablespoon Parmesan cheese
1 (8-inch) frozen pie or tart shell
Directions
Preheat the oven to 350 degrees.
In a medium-sized frying pan, cook the bacon over medium-high heat until crisp around the edges. Transfer bacon to a paper towel to drain. Once cool, roughly chop into small pieces and then set aside.
Pour out all but 1 tablespoon of the bacon fat. Add the onions to the pan and sauté for 8 minutes over medium-high heat.
Reduce heat to medium-low and sprinkle in 1 tablespoon of thyme and the salt. Continue to sauté the onions for an additional 20 minutes. Onions will become a dark golden brown color.
In a small bowl mix together the ricotta, egg yolk, 1/2 teaspoon salt, pinch of pepper, 1 teaspoon thyme and 1/4 cup Parmesan.
Spread the ricotta mixture on the bottom of the tart shell and then place the onion mixture on top. Sprinkle the remaining 1 tablespoon of Parmesan cheese on the onions and then the bacon pieces on the top. Place in oven and bake for 30 to 35 minutes, or until the tart filling starts becoming golden brown around the edges.