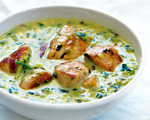 Prep: 10 min
Cook Time: 25 min
Total: 35 min
Serving: 4 Servings
A few tablespoons of fresh cilantro pesto gives this caramelized leek and coconut curry chicken dish amazing depth and an appealing twist of flavor. Make your homemade pesto if possible otherwise use a good-quality purchased brand.
Ingredients
1 tablespoon butter
1 tablespoon olive oil
4 leeks, white and green parts, cleaned and diced
3 cloves garlic, chopped
2 tablespoons green curry paste
2 tablespoons homemade or purchased cilantro pesto
4 chicken breasts, cut into chunks
1 cup chicken stock
1 cup coconut milk
2 tablespoons cilantro, chopped
Directions
Place the butter and the oil in a saucepan over medium heat. Once the butter has melted, stir the mixture until blended and then add the leeks, stirring to coat. Reduce the heat to medium-low and cook the leeks for 15 minutes until golden and caramelized.
Add the garlic and the curry paste to the pan, stir to combine and then cook the mixture for 2 minutes before stirring in the pesto and the chicken; cook the mixture until chicken has browned.
Stir in the stock and the coconut milk; bring to a simmer and cook for an additional 2 minutes.
Serve the dish immediately sprinkled with the chopped cilantro.