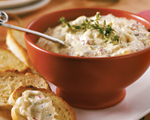 Prep: 40 min
Cook Time: –
Total: 40 min
Serving: Makes 3-1/2 cups
If you really want to 'wow' your crowd, make a French Onion Dip from scratch instead of with the traditional mayonnaise and packet of seasoning. The flavors will be fresher and the caramelized onion will add new depth to this classic party pleaser.
Ingredients
2 tablespoons olive or canola oil
1 tablespoon butter
2 finely chopped medium onions
2 finely chopped large shallots
2 cups sour cream
1 cup mayonnaise
1 teaspoon celery salt
1 teaspoon Worcestershire sauce
1 teaspoon freshly ground black pepper
1 teaspoon sea salt
Directions
Heat olive oil and butter in a large sauté pan over medium heat.
Add onions and sauté for approximately 30 minutes or until onions are golden brown and caramelized.
Add shallots to pan and sauté an additional 10-15 minutes. Both shallots and onions will become dark brown. Remove from heat and let cool completely. Chop into small pieces.
In a medium-sized bowl, combine the sour cream, mayonnaise, celery salt, Worcestershire sauce and salt and pepper. Stir in the onion mixture until completely combined, and adjust your seasonings.
Transfer dip to a serving bowl and garnish with chives. Chill at least 1 hour before serving.