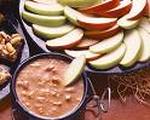 Prep: 10 min
Cook Time: 15 min
Total: 25 min
Serving: 1 1/2 cups
This dip goes great with fruits such as apples and strawberries. Both easy to make and delicious, try it at your next party!
Ingredients
1 bag (14 oz) caramels, unwrapped
1/2 cup butter
1/4 cup pecans, chopped
2 teaspoons rum extract
1 tablespoon milk
Directions
Melt the caramels and butter in a two-quart saucepan over low heat while stirring occasionally. This should take 10-15 minutes.
Once melted, add the rum extract, pecans and milk. Stir vigorously until well-blended. Serve dip warm and keep heated over a Sterno flame or something similar so it will not cool.