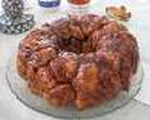 Prep: 20 min
Cook Time: 35 min
Total: 55 min
Serving: 16
Kids can help make Caramel-Pecan Monkey Bread.
Ingredients
1, 12 ounce bottle caramel sundae sauce
1 cup pecans, chopped
1/2 cup sugar
1/2 teaspoon ground nutmeg
1 stick butter, unsalted, melted
3 packages refrigerated biscuit dough
Directions
Preheat oven to 350 degrees F. Grease a 10 inch tube pan with shortening.
Spread 1/3 cup caramel in pan. Sprinkle with 1/3 cup pecans. In a shallow dish, mix sugar and nutmeg. Pour butter into another shallow dish.
Unroll one package biscuit dough. Cut each biscuit into 4 pieces. Roll each piece in melted butter and then in sugar mixture. Drop each into pan, covering bottom. Drizzle with 1/3 cup caramel and sprinkle with 1/3 cup pecans. Repeat, layering remaining dough, caramel and nuts, ending with 1/3 cup caramel.
Bake until top is golden brown and a bit crisp, 30 to 35 minutes. Remove from oven and immediately turn out onto a large serving plate.