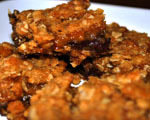 Prep: 15 min
Cook Time: 30 min
Total: 45 min
Serving: 10
Caramel Layered Choco-Squares makes 3 dozen delectable mouthfuls.
Ingredients
1, 14 ounce package light caramels
1/3 cup evaporated milk
1 package German chocolate cake mix
1 tablespoon water
1/2 cup butter, melted
1 cup pecans, chopped
1, 6 ounce package semi-sweet chocolate chips
Directions
Preheat oven to 350 degrees F. Grease and flour a 9 by 13 inch baking pan. Combine caramels and evaporated milk in a saucepan; cook over low heat, stirring constantly, until caramels are melted. Keep warm.
Combine remaining ingredients, except for chocolate chips, in a large bowl. Stir with fork until dough is crumbly but holds together. Press 1/2 of dough into prepared pan. Reserve remaining dough for topping. Bake for 6 minutes.
Sprinkle chocolate chips over baked crust. Spread caramel mixture over all. Sprinkle reserved dough over caramel mixture. Bake for 15-20 minutes. Cool completely before cutting into squares.