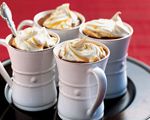 Prep: 5 min
Cook Time: 10 min
Total: 15 min
Serving: 2 Servings
If it wasn't in liquid form, we would think this caramel hot chocolate beverage was actually a creamy chocolate and caramel sundae.
Ingredients
1/2 cup whole milk
1/4 cup heavy cream
5 ounces good-quality milk chocolate, coarsely chopped
3 tablespoons Caramel Sauce, and some to garnish
Whipped cream to garnish
Directions
Place the milk and cream into a blender and process the mixture until smooth.
Transfer to a saucepan and heat over medium heat until gently simmering. Cook for 4 minutes and then add the chopped chocolate.
Whisk the mixture until the chocolate has completely melted then add the caramel sauce and whisk once again until smooth.
Serve immediately topped with whipped cream and drizzled with caramel sauce.