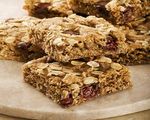 Prep: 30 min
Cook Time: 35 min
Total: 1 hr 5 min
Serving: 54
Amazingly rich, moist and fruity.
Ingredients
1 cup cranberries
2 tablespoons plus 1/2 cup sugar, divided
2-1/3 cups flour
2 cups rolled oats
1/2 cup packed brown sugar
1/2 teaspoon baking soda
1 cup butter, melted
1-1/2 cups chopped dates (optional: soak in brandy)
1/3 cup chopped walnuts, toasted
1 cup caramel ice cream topping
Directions
Preheat oven to 350F.
Combine cranberries and 2 tablespoons sugar; set aside.
Combine 2 cups flour, oats, 1/2 cup sugar, brown sugar, and baking soda. Stir in melted butter and mix well. Reserve 1 cup. Press remaining crumb mixture in bottom of 9" x 13" pan. Bake 15 minutes.
Sprinkle dates, walnuts and cranberry mixture over crust.
Combine caramel topping and remaining 1/3 cup flour; drizzle over fruits and nuts.
Sprinkle with reserved crumb mixture.
Return to oven for 20 minutes or until lightly browned. Cool and cut into bars.