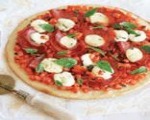 Prep: 20 min
Cook Time: 20 min
Total: 40 min
Serving: Serves 4-6 people
Caprese pizza is a simple pie that is traditional and tasty. Enjoy this with your favorite glass of wine and a fresh salad.
Ingredients
1 pound frozen pizza dough, thawed
1 (12-ounce) container pasta sauce
1 (8-ounce) container pearl-sized mozzarella, drained (can substitute an 8-ounce ball of mozzarella, chopped into pieces)
1 tablespoon fresh basil, coarsely chopped
Nonstick cooking spray
Directions
Preheat your oven to 400 degrees F. Lightly pray a baking sheet with the nonstick cooking spray. On a lightly floured surface, roll out the pizza dough to the approximate size of your baking sheet. Transfer the dough to the baking sheet and loosely cover it with plastic wrap and allow it to rest for about 10 minutes.
Prick the entire surface of the dough with a fork. Bake the dough for about 10 minutes, remove it and top it with the pasta sauce and mozzarella. Bake for about 10 minutes total, or until the cheese is melted and the crust is golden. About 5 minutes into the second baking time, add the basil to the top of the pizza.