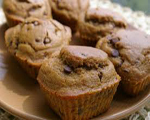 Prep: 15 min
Cook Time: 25 min
Total: 40 min
Serving: 15 People
These muffins are ideal as an afternoon snack. Serve with a hot cup of coffee.
Ingredients
2-1/2 cups flour, divided
1/2 cup sugar
3/4 cup brown sugar, divided
2 teaspoons baking powder
2 teaspoons instant coffee granules
1-1/2 teaspoons cinnamon, divided
1/4 teaspoon salt
1 egg
1 cup milk
3/4 cup butter, divided
1 teaspoon vanilla
1 cup chocolate chips
Directions
Cream egg, milk, 1/2 cup butter and vanilla; set aside.
Combine 2 cups flour, sugar, 1/2 cup brown sugar, baking powder, coffee granules, 1 teaspoon cinnamon and salt.
Blend flour combination into egg mixture.
Fold in chocolate chips.
Pour batter into prepared muffin tins.
Mix together remaining flour, brown sugar and cinnamon.
Blend in remaining butter, until mixture becomes crumbly.
Sprinkle over muffin batter.
Bake at 375 degrees for 25 minutes.